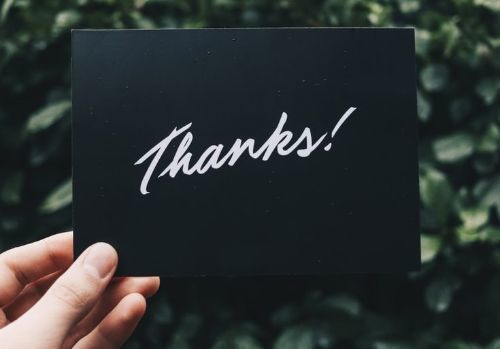 Later this month, we'll be cutting the turkey and passing around the sides. Thanksgiving comes each November in the United States as a time to show thanks to the ones you love. Although typically you spend Thanksgiving with your family or friends, it's time to take the concept to the people who help keep your business running—your customers! Check out ways that you can show your thanks to your customers this month. 
Write a Heartfelt Note
Handwritten notes tend to carry more weight these days than the hundreds of emails we get per day. Add a special touch by using branded stationary that shows your thanks and includes the logo of your company. Dig deep into your heart to write a meaningful message. Include as many personalization details as you can to make sure your customers feel like they're one in a million instead of one of millions. 
Send a Thoughtful Gift
Especially with the end of the year coming soon, send a thoughtful gift to help keep your business top of mind and show your appreciation. From branded swag to a simple card, there are tons of ways to show you care. Consider printing your logo onto the gift packaging so your recipients know where the gift is coming from. They'll appreciate the thoughtfulness and also be reminded of your business as they continue to make decisions on businesses to support through the year end.
Pick Up the Phone
Take some of your top customers and pick up the phone to say thank you. While all of your customers deserve the best you can give them, there may not be enough time in the day to call each one. Start with a few of your top customers, and set a goal for how many phone calls you'd like to make this month. It could be as simple as calling one individual each day. 
Offer a Discount or Deal
Year-end sales are successful for a reason! Use this as an opportunity to gather more business and retain your current customers. Plus, you can use this opportunity to put items on clearance that you're looking clear from your stockroom for the new year. Think about what would provide the most value both to your customers' businesses and to yours. 
Provide Long-Term Incentives
It's time to say thank you by thinking of a loyalty program for your customers. Often, businesses are great about remembering to treat their new customers to a deal, but their most loyal customers are truly the ones who are already invested. You could try a punch card or a discount after so many purchases. You could also surprise your tried-and-true customers with a discount for no reason other than to say thank you! 
How will you show your customers how much they mean to you? After all, without them you wouldn't be in business! Make sure that whatever you decide to do, you do it from the heart. Customers know when they're receiving a blanketed statement or deal versus something tailored specifically to fit their needs. Use the above guide as a starting point and get out there to show your customers just how much they mean to you!