NOTE PADS / MEMO PADS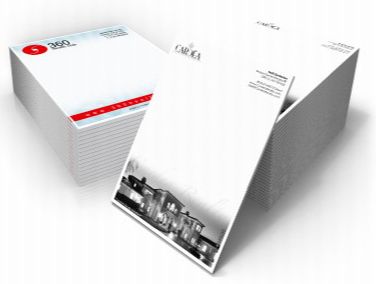 At Beaver Creek Printing we produce high quality notepads that feature a hard cardboard backing. Notepads with your company information and logo printed on every page make great promotional handouts that will keep your business' name in the minds of your customers. But don't just think memo pads – these pads make smart score pads, prescription pads, receipt books, rebate pads, entry forms and much more.
Sheets Per Pad: We can make your custom notepads with any amount of pages that you want. Our most popular are 50 and 100 sheets.
Sizes: At Beaver Creek Printing we strive to create the product that you want. We can make your custom notepad in any size. Our most popular sizes are:
4 ¼'' x 5 ½''
5 ½'' x 8 ½''
8 ½'' x 7''
8 ½'' x 11''
Colour: We can print anything from 1 colour to beautiful full colour notepads.
Order: Message us today for your free quote, or call us at 905-946-1091
Quick Quote: Tell Us About Your Project to Receive Your Free Quote