ENVELOPES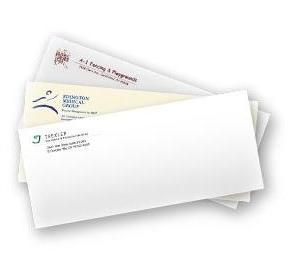 When you send a letter, invitation, or invoice using printed envelopes it gives off the message that your business or event is sophisticated and professional. At Beaver Creek Printing we produce the best quality printed envelopes at an affordable price that are sure to impress all of your clients.
Envelope Sizes: We can design and print envelopes of all sizes and formats. Whether you need ones that are as small as A-2 Invitation envelopes or as large as 10''-13'' envelopes, Beaver Creek Printing has got you covered.
Custom Envelope Sizes: If you need non-standard sized envelopes we can produce custom sized ones just for you in any size. (Minimum quantity on custom envelopes is 5000)
Colour: We can print your envelopes any way that you want, from basic black & white to impressive colourful designs. Choose from:
1 Colour
2 Colour
Full Colour
Variable Data Printing:
Personalize your envelopes with
variable data printing
. We can print individual names and addresses on your custom envelopes. Simply send us an excel spreadsheet with the names and addresses of your recipients.
Order: Message us today for your free quote, or call us at 905-946-1091
Quick Quote: Tell Us About Your Project to Receive Your Free Quote