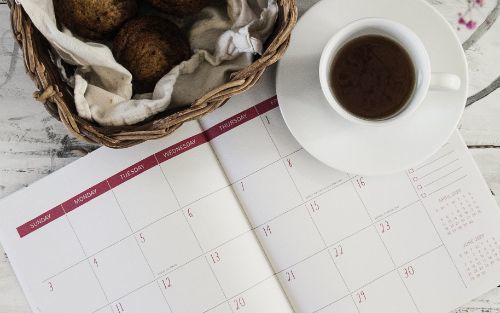 Around here, we often talk about your marketing efforts and how to maximize performance. However, there is so much more that goes into a successful marketing campaign than simply focusing on churning out campaign after campaign. 
Sometimes, it's about what you're not doing. It's important to press pause and reset on your marketing efforts. Taking some time off both from sending your marketing messages and for your team to recoup is a necessity to marketing success! Check out five reasons below that you should consider incorporating some time off into your schedule.
1. You and Your Crew Need Time to Recharge
You could use a break and so could your staff! Creativity is a funny thing in that if you continue to try to churn and churn and churn ideas, creativity often suffers. Practice implementing a break period for creative efforts into your marketing cycle so that your team members can deliver the best marketing ideas possible. If the ideas flowing lately aren't up to their usual standard, that's often a sign that creativity is suffering and your team could use a creative break. Practice building in other activities to give the creative juices a chance to recharge.
2. Too Much of a Good Thing Can Backfire
Sometimes, too much of a good thing can have the opposite effect of what you were intending. For example, you may have a qualified potential customer who decides to unsubscribe from your email list simply because you sent them too many communications. It's not that they weren't interested, it's just that they became overwhelmed with the amount of emails they received from your business.
So, how can you make sure you're not over sending? Ensure each email you send has true value for the potential customer. Don't send emails simply to fill a quota. Ask yourself if the subject line would make you want to click and if the call to action is valuable enough for the end-user. If not, it's back to the drawing board! 
3. You'll Come Back Strong
Burnout is real and has especially shown itself during the global pandemic. People are working from home in unfamiliar situations and sometimes can't escape work. Studies have shown that if motivation is lacking, time off can help you come back reenergized and motivated. As mentioned above, your creativity will also hopefully come back stronger than ever. Understand that in order to produce your best work, a break is necessary. 
4. Quality is Better than Quantity
A little extra time and attention to detail can go a long way. If you take a break every now and then, you will have time to come up with a perfectly executed strategy. One incredibly executed campaign will have a better return than multiple campaigns thrown together for the sake of putting them out into the world. For example, a rushed direct mail piece, social media series or email marketing campaign could result in errors or mistakes, like a missing URL or typos. When you spend more time ensuring you get it right, you're less likely to have small mistakes. Plus, it's more cost effective to put out a well-done campaign than many campaigns with less attention to detail.
5. Use Multiple Channels and Spread the Love
In order to recall information, the rule of thumb is that your audience needs to see a message 7 - 11 times. To avoid overdoing one channel, make sure you spread the love with your marketing channels. If you send a direct mail piece today, follow up with an email marketing campaign that is tied to the direct mail piece later that week. Make sure to alternate and reach your audience in a variety of different ways.
Sometimes the key to success is simply stepping back to evaluate and taking time to recharge. It may seem counterintuitive, but studies have shown that taking a break can lead to increased productivity. Plus, one quality campaign produces more leads or success than multiple quickly thrown together campaigns. Remember to take your time this holiday season to produce your best efforts!